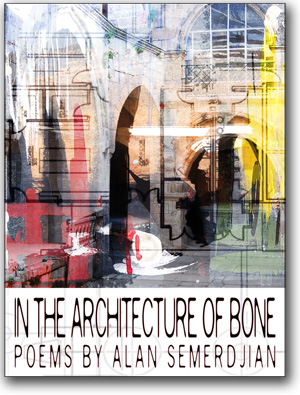 GenPop Books, 2009
ISBN: 9780982359402
Poetry | 6″x8″, 120 pages, trade paperback
$14 includes shipping in the US ($15 in stores).
[SOLD OUT]
Alan Semerdjian's In the Architecture of Bone reads like a long poem cycle that pulls the reader into an open field in which Semerdjian weaves his explorations of language and art, Armenian history and family. These dynamic poems mingle the ghosts of the past with the pace of contemporary life. This talented, young poet is well worth your reading.

—Peter Balakian
"If a culture could be recreated with words, Alan Semerdjian has built a veritable microcosm of the Armenian lifestyle in his most recent poetry collection, In The Architecture of Bone. . . . an anthropological look at the psychological difficulties his immigrant elders faced after they arrived in America, specifically, their adjustment to suburban life after escaping ethnic cleansing. . . . Semerdjian masterfully reproduces the process of how these memories are suppressed in 'The Grandchildren of Genocide,' but in describing the process of suppression he uncovers the worst memories. . . . In acknowledging the sheer stroke of luck his grandfather had in the face of horror, Semerdjian makes In The Architecture of Bone a tribute to all of the people who suffered because of their ethnicity and applauds the strength of those who continued in their traditions in spite of being cut off from their home lands."

—K.T. Mitchell, Adirondack Review
"The Armenian genocide is not taught in the U.S.'s public schools. . . . and not all nations even recognize that it happened. With the exception of Damad Ferit Pasha's brief postwar government, no Turkish regime has ever acknowledged the genocide. Indeed, the topic is currently a barrier to Turkey's bid to enter the European Union. . . . I offer this long preamble to my review of Alan Semerdjian's excellent poetry collection, In the Architecture of Bone, chiefly because of this widespread ignorance and because this book cannot be understood if the reader is unfamiliar, even in passing, with this early modern genocide. Semerdjian's poetry is, first and foremost, that of the Armenian Diaspora, which still viscerally experiences the aftershocks of this genocide several generations later not only through displacement, but also through the memories that friends, grandparents, and great-grandparents have passed down. . . .

—JoSelle Vanderhooft, Pedestal Magazine
In the Architecture of Bone is the spirit of Armenia streaming through the mnemonic of Semerdjian's family and their abode. This "evidence" exists by means of its words inscribed on a blank beatific hide. And this hide co-respirates as a biography of exile while lingering in the cells of language. Scenic registrations, interior postings via a vivid singularity. Semerdjian condenses the "undertow" and the droning of the Armenian Diaspora through a stark imaginal thriving. In the Architecture of Bone is a book brimming with marvelous seepage and recollection.

—Will Alexander
In search of "a dare of home," Alan Semerdjian confronts the structure of Armenian memory as located within genocide and genetics. Laying out an assemblage of cultural fragments interpreted through the politics of art and custom and nation and family, In the Architecture of Bone constitutes the poet's visual exploration of how an "only child" navigates a landscape littered with a burdensome history's "one of everything."

—Erin McKnight, Prick of the Spindle
For those of us who are prepared to "Go Deep" into the architecture of the individual human experience rather than skim its surfaces, there's good news. As revealed by Armenian-American poet and musician Alan Semerdjian, there is much that is "bone deep" in his book The Architecture Of Bone. . . ."

—George Wallace, Long Island Pulse
In Architecture a fragmented world achieves cohesion. Rather than made into a terrifying place, the tragedy transforms into a celebration of "the idea of family" invoked in the dedication. The grandfather "paints to elevate/everything flattened and dry." The grandson, on the other hand, sings songs which illuminate the mother's need for "the safety/of home, the hallway, a life/next door to her mother/and father"and, why not, "The shackles of my mother/and all Armenian women" around their sons. Semerdjian fulfills the promise of the epigraph, "Perhaps it is our function to illuminate some dark corner of the universe" (Gostan Zarian). His poems do indeed deepen our understanding of our own experiences. "Typically, I should know more/than a few words–most Turks know a little/Armenian; most Armenians know a lot of/Turkish–but I wasn't born there" is a poignant reminder–because so sudden–of the disruption caused by one's removal from one's roots.

—Arpi Sarafian, Armenian Observer
About the Author
Writer/musician Alan Semerdjian's poems and essays have appeared in several print and online publications and anthologies including Chain, The Lyric Review, Adbusters, Arson, Ararat, and Diagram. He released a chapbook of poems called "An Improvised Device" (Lock n Load Press) in 2005. His songs have appeared in television and film and charted on CMJ.
Read more at the GenPop author page for Alan Semerdjian.
See also: Readings & events.